Timelapse DSLRs, which one should I use?
If you are looking for a great timelapse DSLR solution, then we recommend renting the Canon EOS 5DSR DSLR or the Canon EOS 7D Mk II DSLR. Traditionally, time-lapse video capture requires additional accessories, such as our Canon Timer Remote, or an intervalometer. These devices are great, but add steps to your process and cables that will hang off of your camera body. The Canon 5DSR and the Canon 7D Mk II are unique in that they include an internal intervalometer. It is very easy to use, and the capture quality of both cameras render high resolution RAW images for color grading and reframing in post-production. The video below reviews the setup process for these cameras.
Why these Timelapse DSLRs?
The Canon 5DSR's primary virtue is its full frame 53.3 megapixel sensor capable of capturing 8K RAW still images. One of the greatest benefits of shooting at such a high resolution comes during the post production process. An 8K resolution is 16 times the resolution of a typical 1080p HD image. Since you are likely delivering your video to the internet with a 1080p resolution, the higher 8K resolution provides flexibility with the composition by allowing an editor to reframe or "punch-in" during post production. For example, if you are shooting a subject that is in motion, you can reframe the image if the subject moves to an undesirable part of the frame. A resolution of this size will also allow you to initiate movement into your timelapse video without the need of a slider or motion module. You can create pans and zooms with your post production software that would be otherwise impossible by reframing and adjusting your frame within the 8K image. The Canon 7D Mk II doesn't lag behind either, boasting a 5k raw image that while less than the 5DSR, will still hold up well once you get to post!
DIY Motorized Slider for a Timelapse DSLR
Adam Rahn of Droi Media has a great option for those who would like to add even more movement to their timelapse videos. Adam's solution is a motorized slider, and he details how you can construct your own in his blog post DIY Motorized Timelapse Slider. High resolution DSLRs can certainly provide perspective change by reframing your image in post-production, but when paired with a motorized slider, one increases the range of coverage for your timelapse or hyperlapse. Increasing your video's production value is important to distinguish it from the ocean of content churning on the internet. Adam's motorized slider will increase your timelapse video's production value. It also looks really fun to build!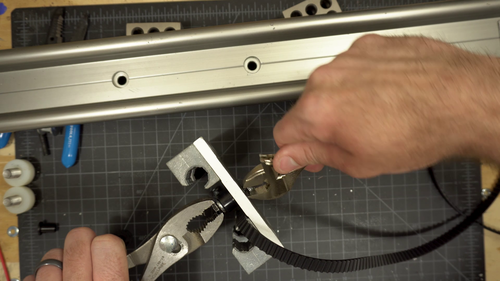 Whether you need to quickly and easily produce a timelapse video, or you are looking for the highest possible resolution, the Canon 5DSR and 7D Mk II have you covered. You can also create an even higher resolution image if you pair two Canon 5DSRs together with our Side by Side High Resolution Photo Rig. If you have any other questions, or would like to rent these cameras just give us a call, or visit us at magrents.com.